Parents up and down the country have been attending parents' evenings for their kids over the last couple of weeks, and we were no exception.
There's something about parents' evening, isn't there? You feel as though you need to be on your best behaviour. At Big's school, the Head teacher greets us as we walk through the doors and, even though he's probably younger than me, I feel as though I need to call him 'Sir' and not do anything that might get me sent to his office. Once in the school building, I am taken right back to my own school days, as it's the same school I attended when I was small. It hasn't changed a whole lot either. I can still smell the dinner as I walk through the hall/gym/dining hall (spam fritters and bright green custard, anyone? Not together, obvs!)
We sit outside the classroom while we wait our turn and have an opportunity to look through Big's books. There are so many of them! I'm sure we didn't have all these when I was in primary. They're all different colours too, which pleases my rainbow-loving self! It's lovely to be able to see how much effort Big puts into his work; he's not the best speller and he forgets his punctuation, but his handwriting is so neat and I can really see how hard he's trying.
Finally, it is our turn to talk to Big's teacher. He wants to come in with us, but we ask him to wait outside for a while as there are a couple of things we need to speak about that we don't want him party to. Big has been struggling with anxiety, especially around maths, which he finds tricky. Recently, he had a day off school as he said he was feeling dizzy, sick and had a headache and stomach ache. However, after a swift, miraculous recovery by about 10.30am, I eventually teased out of him that he was feeling worried about maths, in particular, getting the answers wrong.
I totally understand where he's coming from, because I was exactly the same at school (and still am now, actually!). The thought of speaking out loud in front of others and making a mistake terrifies me. And Big, it seems. But when it gets to the point where it's making him feel anxious and that's manifesting itself as feeling ill, it needs addressing. I had spoken to the teacher about it before, so I was keen to hear how she was handling it in school.
She couldn't be more lovely. She tells us what a delightful boy he is and tells us how hard he tries and how conscientious he is, which is great to hear (because we have battles at home over doing homework!). Yes, he is struggling with maths, but she's keeping an eye on it and it's not as bad as it could be and could be better with some proper practice. She is mindful that he is somewhat sensitive, and she's trying to address his anxiety about being put on the spot by warning him that she will be asking him for an answer so he has time to think about it first.
By all accounts he is doing really well; he has quite a few friends and mixes well and he's becoming more confident at asking for help when he needs it. I had gone into the meeting worried about what she might say, but we are pleasantly surprised with how positive it was, and really very pleased with how hard he's trying!
Tell me how you feel about parents' evenings – love them or hate them?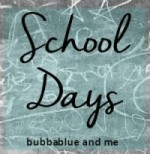 Kelly is a mother of two – her son H and daughter Tink. H is home educated, Tink is autistic. Kelly is a self-employed Virtual Assistant… Life is busy!